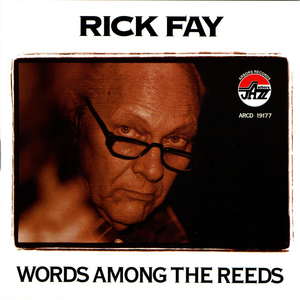 Rick Fay: Words Among the Reeds
Arbors Records
ARCD: 19177
Regular price $10.00 Sale
Rick Fay: Poetry, Tenor and Soprano Saxes, Clarinet, Vocal
Jackie Coon: Fluegelhorn
Dan Barrett: Trombone
Johnny Varro: Piano
Bob Leary: Guitar, Vocal
Bob Haggart: Bass
Jeff Hamilton: Drums

Rick Fay once again combines his poetry with music in this sequel to Sax-o-Poem (19113), this time drawing portaits in words and music of some of his favorite jazz musicians. In Words Among the Reeds Rick Fay gives us poetic and musical portraits of himself and eleven of the jazz world's brightest stars. Like "Sax-o-Poem", its predecessor, this album rings true in both words and notes. Rick's poems set up the musical performances that follow. Either could stand alone as the work of a gifted artist; together, the effect is synergistic. Who Am I? Rick asks in the opener. Rejoice in the creativity of his responses throughout this wonderful album.
—Owen Cordle, whose work appears regularly in JazzTimes, Down Beat and in the Raleigh (NC) News and Observer.

Rick Fay: Words Among The Reeds: Selected by Al Van Starrex as a Writer's CHoice for 1998 in the January/February 1999 issue of Coda
Selections:
Who Am I?
Sheepface
Singin' the Blues (Till My Daddy Comes Home)
In the Cool, Cool, Cool of the Evening
Lazy Mood
A String of Pearls
Blue and Sentimental
Wild Man Blues
Don't Explain
Come Sunday
I Wish I Could Shimmy Like My Sister Kate
Spotlite