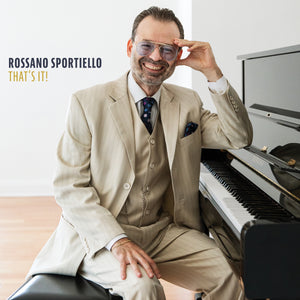 Rossano Sportiello | That's It!
Arbors Records
ARCD: 19479
A collection of Rossano's solo piano thoughts including many standard songs that are at the very heart of his repertoire.
Equally important here are Rossano's original pieces that establish Rossano as an accomplished composer as well as a fine keyboardist and arranger.
...The album is a generous mix of standards, including some Fats Waller-associated tunes right up to Michel Legrand, and five Rossano originals, ranging from the Bill Evans inspired "She Is There" and "Song for Emily" to "Nonno Bob's Delight," which bounces exuberantly between 3/4 and 4/4. Throughout the album, Rossano employs stride in more ways than most listeners are accustomed to, from rollicking, full-tilt to soft, guitar-like strumming and every kind of swinging in between...
George Kanzler
Hot House January 2021