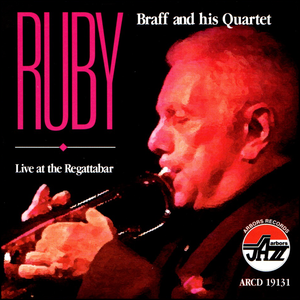 Ruby Braff and his Quartet: Live at the Regattabar
Arbors Records
ARCD: 19131
Regular price $10.00 Sale
Ruby Braff: Cornet, Piano
Gray Sargent: Guitar
Jon Wheatley: Guitar
Marshall Wood: Bass

"This latest Ruby Braff quartet, as good as any he«s ever led, is nothing short of classic."

—Bob Blumenthal (jazz critic, whose writing currently appears in The Boston Globe, CD Review and The Atlantic Monthly.)

Selected as one of the best albums of 1994 by vote of the members of the Jazz Journalists Association and Garry Giddins in the Village Voice. Selected by Owen Cordle as one of his Critics Picks for 1994 in JazzTimes. Chosen in The New Yorker as a recent jazz album "we've been playing and replaying." Selected by Tex Wyndham and DIck Neeld as a Writers Choice record for 1994 in Coda Magazine.
Selections:
Persian Rug
It's Wonderful
Louisiana
Sweet Sue (Just You)
O Do It Again!
No One Else But You
Crazy Rhythm
Where Are You?
Between the Devil and the Deep Blue Sea
Orange
Give My Regards To Broadway