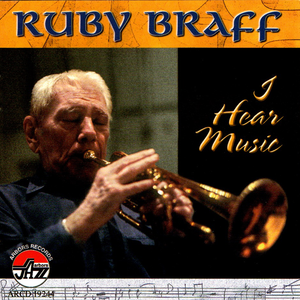 Ruby Braff: I Hear Music
Arbors Records
ARCD: 19244
Regular price $10.00 Sale
Ruby Braff, cornet
Bill Charlap, piano
Tommy Newsom, tenor sax
Bucky Pizzarelli, guitar
John Beal, bass
Tony DeNicola, drums
Daryl Sherman, vocal #7

Ruby Braff has never run out of great songs to play and ingenious ways to play them. One of the most prolific recording artists of recent times, it should be noted that his output is even more quality than it is quantity. Braff and the Braffsmen offer tangible proof that jazz as we know it, i.e. the concept of theme and improvised variations, is still no less pungent with possibility than the great songs themselves. It's not just what each soloist plays but when: each individual statement carefully follows another, playing something in response to the previous solo, offering some wry commentary on the original tune. The entire session and indeed, the ongoing career of Ruby Braff are arguments for the continued validity of the basic tenets of jazz; the balance of solos and ensembles, of improvisation and playing the written melody, of group dynamics and interplay. And while all five supporting players are truly par excellence, it's the leader who himself propels their collective efforts to greatness, and, in the process, shows us all who's king of the forest.
—from the album notes by Will Friedwald, the author of Jazz Singing and Sinatra! The Song Is You, and co-author with Tony Bennett of The Good Life, as well as a contributor to The New York Times and to many jazz publications.
Selections:
I Hear Music
Chicago
My Kind of Town
Baby, Won't You Please Come Home
Wouldn't It Be Loverly?
Yesterdays
Anything For You
We're All Through