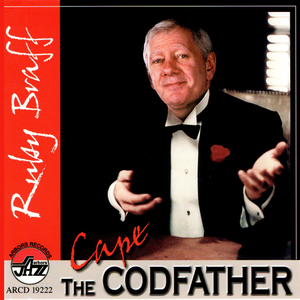 Ruby Braff: The Cape Codfather
Arbors Records
ARCD: 19222
Ruby Braff: Cornet
Kenny Davern: Clarinet
Tommy Newsom: Tenor Sax
John Bunch: Piano
Howard Alden: Guitar
Michael Moore: Bass
Kenny Washington: Drums

"Of all the assets that a great musician needs, individuality is perhaps the most important. Ruby Braff has that quality in abundance - his playing can never be mistaken for anyone else«s in the world. Today, Ruby's tone is even more sublime and full of feeling, it has been fortified and honed by the experience and wisdom that Ruby has gained from a lifetime in music. Now he seems able to pluck inspiration out of the air, creating ideas that are never less than ingenious and often monumental - he swings at any tempo. All of his skills are evident on this superb new album, and so too is the consummate artistry of the musicians who are featured alongside Ruby.
"Ruby has dedicated this album to the memory of his good friend, reedman Rick Fay, who died just four days before these recordings were made in March 1999. I'm sure that Rick would have enjoyed all of the enthralling performances that this CD contains."
—John Chilton, British trumpeter, bandleader and writer about jazz. His books include The Who's Who of Jazz, and biographies of Louis Armstrong, Henry Allen, Sidney Bechet, Bob Crosby, Coleman Hawkins, Billie Holiday and Louis Jordan.

"To even the most novice listeners, the cornet has a rich, full, sound that is immediately distinguishable from a trumpet. On the lips of a consummate artist like Ruby Braff, the cornet's warm, burnished sound is distinctive and totally individual. Probably no greater compliment can be paid a jazz musician"
—J. Robert Bragonier, 52nd Street Jazz
"Pound for pound, Ruby Braff is the best cornetist on this planet"
—Harvey Siders, JazzTimes Magazine
Selections:
My Melancholy Baby
Love Is Just Around the Corner
Orange
If Dreams Come True
Tain't So, Honey, Tain't So
As Time Goes By