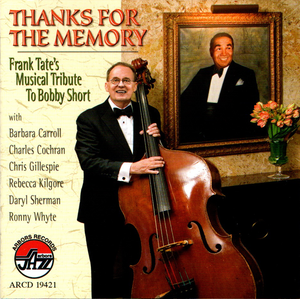 Thanks for The Memory: Frank Tate's Musical Tribute to Bobby Short
Arbors Records
ARCD: 19421
Regular price $10.00 Sale
Frank Tate-bass
Mike Renzi-piano
Joe Ascione-drums
Vocals and piano by:
Barbara Carroll-tracks 1, 2, 3
Charles Cochran-tracks 10, 11, 12
Chris Gillespie-tracks 16, 17
Rebecca Kilgore with Mike Renzi-piano-tracks 4, 5, 6
Daryl Sherman-tracks 7, 8, 9
Ronny Whyte-tracks 13, 14, 15

Frank Tate conceived this album to celebrate the most influential musician in his career. He invited a half-dozen of Bobby Short's saloon colleagues to perform the songs that, for them, best evoke Bobby Short. When Bobby Short took over the piano at New York's Cafe Carlyle in 1968, he did more than entertain; he turned the room into a hothouse of retro chic, safe from the passage of time. With Short onstage, cares faded away. anyone who wanted to feel like a New York sophisticate— and that included presidents, movie stars, and just-plain-folks with some money to burn—hung on his every word.
—From the album notes by James Gavin, author of Intimate Nights: The Golden Age of New York Cabaret and Stormy Weather: The Life of Lena Horne.
Selections:
Looking At You
That Face
At Long Last Love
You're Sensational
Moments Like This
Harlem Butterfly/Drop Me Off In Harlem
Picture Me Without You
Sand In My Shoes
Dancing In The Dark/Dream Dancing
Let's Misbehave
Sometime When You«re Lonely
Hooray For Love
I Love You, Samantha
I Walk a Little Faster
Losing My Mind
You'd Be So Nice To Come Home To
Thanks For The Memory