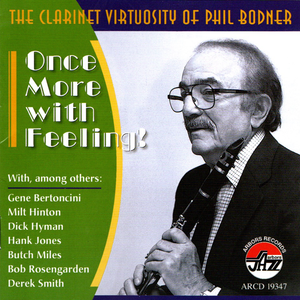 The Clarinet Virtuosity of Phil Bodner: Once More With Feeling!
Arbors Records
ARCD: 19347
Regular price $10.00 Sale
Phil Bodner-clarinet
Gene Bertoncini-guitar
Milt Hinton-bass
Dick Hyman-piano
Hank Jones-piano
Butch Miles-drums
Bob Rosengarden-drums
Derek Smith-piano and others also
"Virtually every serious jazz record collector had Phil Bodner on dozens if not hundreds of their records even if they are not necessarily aware of his presence. A very valuable studio musician for decades, only infrequently in the limelight, his musicianship and reliability were greatly respected by his contemporaries in the studio world while his solo abilities were enjoyed by his fellow jazz musicians. This collection of previously unreleased performances, gives one a chance to hear how exciting a clarinetist Phil Bodner was in his prime. He is featured in six different settings during the 1960s and '70s, excelling with each group and interacting with some notable players."
—Scott Yanow, has penned over 500 liner notes and is the author of nine jazz books including Trumpet Kings, Swing, Classic Jazz and Jazz On Film

Selections:
Oh, Lady Be Good!, In a Sentimental Mood, I'm Gettin' Sentimental Over You, Memories Of You, Between The Devil and The Deep Blue Sea, Change Partners, Gone With the Wind, A Rainy Day, More Than You Know, These Foolish Things, Alabama Song, Bie Mire Bist du Schoen, Softly, As In a Morning Sunrise, Hanky Panky, Old Man Time, In a Little Spanish Town, Those Sunday Blues, Tiger Rag, Them There Eyes