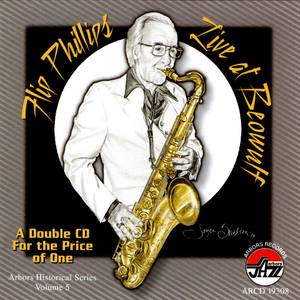 The Flip Phillips Quartet: Live at The Beowulf, Arbors Historical Series, Vol. 5
Arbors Records
ARCD: 19308
Regular price $10.00 Sale
THIS CD IS OUT OF PRINT AND
AVAILABLE BY DIGITAL DOWNLOAD ONLY
For digital download of this CD, visit your preferred digital download website such as iTunes, Amazon Music, Google Play and More!
---
Musicians: Flip Phillips, tenor saxophone, Tom Howard, piano, Don MacLean, drums, Joe Reichgott, bass, John Mason, bass
Flip Phillips traveled and worked with some of the greatest musicians and bands in the world from his days with the first Woody Herman Herd, Jazz at the Philharmonic and Benny Goodman tours. Flip had a wonderful three-year run at a club in Florida named The Beowulf, and although The Beowulf no longer exists the memories of great music linger on in this double CD recorded in December, 1977 and October, 1978.
"The tunes are arranged and executed beautifully - loose enough to allow for individual expression but tight enough to satisfy my need for musical integrity." 

Selections:
Beowulf Blues, Whirly Bird, Indiana, The Carioca, Lemon Aid 21, The Brotherhood of Man, Tricotism, I Want to be Happy, Hodge Podge, Sweet and Lovely, Body and Soul, In a Mellow Tone, Someone to Watch Over Me, I Loves You, Porgy, Chloe, Christian Scientist, A Closer Walk With Thee, After the Lovin', 30 Years Later, Tears, I Hadn't Anyone Till You, I Won't Last a Day Without You, Sultry Serenade, Symphony, Spanish Eyes