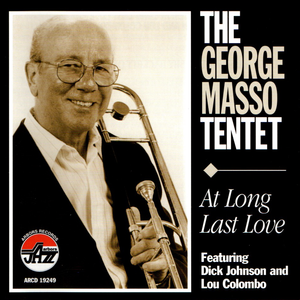 The George Masso Tentet: At Long Last Love
Arbors Records
ARCD: 19249
Regular price $10.00 Sale
THIS CD IS OUT OF PRINT AND
AVAILABLE BY DIGITAL DOWNLOAD ONLY
For digital download of this CD, visit your preferred digital download website such as iTunes, Amazon Music, Google Play and More!
---
George Masso: Leader, Trombone, Piano, Arranger
Dick Johnson: Clarinet, Tenor Saxophone
Lou Colombo: Trumpet
Mark Phaneuf: Baritone Saxophone, Flute, Clarinet
Artie Mentanaro: Trombone
Dick Whaley: Trombone
David Masso: Trombone
Jon Wheatley: Guitar
Marshall Wood: Bass
Artie Cabral: Drums

"The musicians must have really enjoyed playing these brilliant charts and they stand as a shining lesson for anyone interested in the arranger«s craft. Masso's work fits snugly into the category bounded by the John Kirby band at one end and by the Marty Paich Dektette at the other. In his settings for the horns he shows the foresight of an Al Cohn or a Gerry Mulligan in his awareness of how best to catapult a man into his solo."
—Steve Voce, Jazz broadcaster for the BBC and columnist for Jazz Journal International for more than fourty-five years.
At Long Last Love
Ev'rytime We Say Goodbye
Only Trust Your Heart
Black Butterfly
Day In - Day Out
I'll Never Be the Same
All By Myself
But Beautiful
Pick Yourself Up
Bonnet Strut