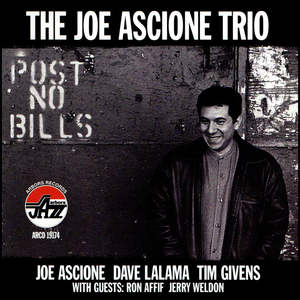 The Joe Ascione Trio: Post No Bills
Arbors Records
ARCD: 19174
Regular price $10.00 Sale
THIS CD IS OUT OF PRINT AND
AVAILABLE BY DIGITAL DOWNLOAD ONLY
For digital download of this CD, visit your preferred digital download website such as iTunes, Amazon Music, Google Play and More!
---
Joe Ascione: Leader, Drums
Dave LaLama: Piano
Tim Givens: Bass With Guests: Jerry Weldon: Tenor Sax
Ron Affif: Guitar

"This is Joe Ascione's first outing under his own banner, so that here behind Jerry Weldon's classic tenor sax, Ron Affif's aggressively specific guitar, Tim Givens' digitally acrobatic bass and Dr. Dave LaLama's postgraduate piano, you are hearing what amounts to no less than the beginning of a new time in jazz. And if time, as they say, runs like a river, this collection glides downhill from quick mountain streams to placid ponds to the great ocean, itself."
—Ed Lowe writes for New York Newsday on jazz and the arts.
Selections:
My Shining Hour
Well, You Needn't!
Bouncin' With Bud
Pent Up House
Chelsea Bridge
Get Happy
Moment's Notice
All Blues
Nobody Else But Me
All My Tomorrows
Eternal Triangle