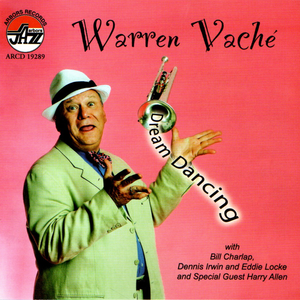 Warren Vache: Dream Dancing, with Bill Charlap and Harry Allen
Arbors Records
ARCD: 19289
Regular price $10.00 Sale
THIS CD IS OUT OF PRINT AND
AVAILABLE BY DIGITAL DOWNLOAD ONLY
For digital download of this CD, visit your preferred digital download website such as iTunes, Amazon Music, Google Play and More!
---
Warren Vache: cornet
Dennis Irwin: bass
Eddie Locke: drums
special guests Bill Charlap, piano and Harry Allen, tenor saxophone

Awarded the "Grand Prix du Disque for 2004" by the HOT-CLUB OF FRANCE
"Taken singly, Warren Vache and his horn, muted or not, provide a dazzling treat. Add the superb piano fireworks of Bill Charlap and the duets these two bring us are more than listenable, they are positively joyful. And now, should you bring on the elegant drumming of Eddie Locke, the subtle bass beat of Dennis Irwin, and finally, drop into this mix the lush tones of Harry Allen's sax, brace yourself, friends, you are now in for an hour or so of superb music, elegant jazz provided by some of the best of our composers.
—Max Wilk, author of They're Playing Our Song and OK! The Story of Oklahoma who writes frequently about the Broadway Theatre.
Selections:
Close Your Eyes, Tool Late Now, Quasimodo Lover, Come Back To Me, Dream Dancing, Blue Lou, Some Other Time, You're a Lucky Guy, You're All the World To Me, What's New?, I'm Shooting High, Not Exactly Paris,